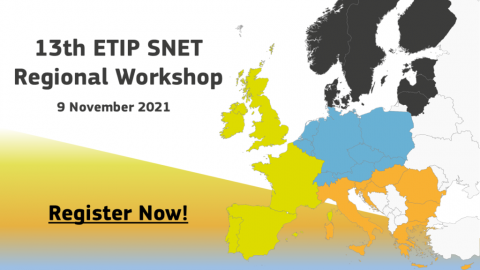 09:30 - 13:00 (CEST)
Location: Online
On Tuesday, 9 November, the ETIP SNET is organising its 13th Regional Workshop, which will dive into Europe's energy transition through 4 parallel sessions focusing on the following themes:
Decarbonising EU Islands
Operation of Integrated Energy Systems with High-RES Penetration
Digitalisation: Monitoring and Control; Semantic Interoperability
Consumer and Data to discuss the relation of products, privacy and policy
During each of the thematic sessions, nationally and regionally funded R&I projects of significant added value will be presented.
The workshop will provide a unique opportunity to learn about R&I projects around Europe and contribute to the identification of R&I gaps, challenges and priorities.
Any questions? Please contact etipsnetworkinggroups@etip-snet.eu
------------------------------------------------------------------------
Once you have registered, you will receive the Access Card with the connection links to all the plenary and parallel sessions a few days before the event.
------------------------------------------------------------------------
More about the ETIP SNET Regional Workshops
The ETIP SNET regional workshops are an important platform for regional and national stakeholders
to showcase their innovation projects at EU level,
to receive insights in best practices on energy system integration within different national contexts,
to help steer a realistic picture and scenarios for the energy system integration to be funded at EU-level, and
to network and create new opportunities for business development and cooperation within European calls.
Should you wish to present your project, ETIP SNET has now launched a call for projects: please apply here before 11 October.