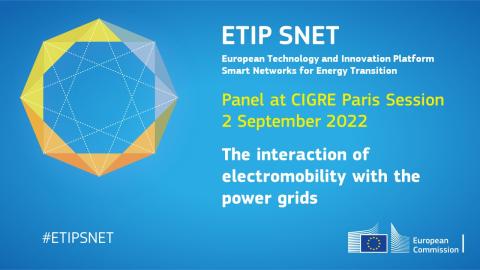 9:30 - 11:30 (CEST)
Location: Online and at CIGRE Paris Session, Palais des congrès, Meeting room 352AB
To attend either in person or online, you need to register.
In this panel, the latest relevant reports from the ETIP SNET and CIGRE and ongoing initiatives will be presented and debated. Professor Nikos Hatziargyriou will moderate the panel, which will involve known experts in the field presenting the ETIP SNET Working Group 1 White paper on EV mobility (E-mobility deployment and impact on grids: Impact of EV and charging infrastructure on European T&D grids – Innovation needs ETIP) that will soon be published, the 2Zero Partnership (TBC), Convener on Electric Vehicles, and international perspective from the International Energy Agency (IEA).
BACKGROUND
The transportation sector is responsible for around 25% of the total European greenhouse gas (GHG) emissions. Several international policies have been enacted to reduce this value, outlying comprehensive strategies for a cleaner transportation sector. Among these is the EU 2030 Climate Target Plan, which sets the ambitious target to reduce GHG emissions by 55% by 2030 (compared to 1990 values) across all transportation sectors (road, aviation, and naval).
Such policies have led to a significant increase in Electric Vehicles (EVs) and are paving the way for higher availability of EV charging facilities. Such increase and uncontrolled charging of EVs will significantly increase the load of the grid. They could provoke significant and unprecedented issues for the network, which would require major infrastructure reinforcements. Smart charging and Vehicle-to-Grid (V2G) approaches can mitigate these impacts and, moreover, exploit the flexibility potential of these new loads for better use of RES and more efficient planning and operation of the energy system.
PRESENTATION OF THE PANEL
Moderator: Professor Nikos Hatziargyriou – University of Athens and Technical Advisor of the ETIP SNET
Panellists:
Antonio Iliceto – ETIP SNET co-Chair Working Group 1 and CIGRE Chair of Study Committee C1 - Framing the charging infrastructure issue and a short introduction of 2Zero Partnership.
Santiago Gallego – IBERDROLA, co-Chair ETIP SNET Working Group 1 – Presenting ETIP SNET Position Paper "E-mobility deployment and impact on grids".
Joao Abel Peças Lopes – Full Professor at FEUP and Director of INESC Porto and Convenor CIGRE WG C6.40.
Luis Lopez – Energy Analyst at International Energy Agency (IEA) Global E-mobility Programme – Policy Brief on Public Charging Infrastructure (TBC).
Ning Zhang, Associate Professor at Tsinghua University (Beijing) – Convenor CIGRE WG C1.47 on Sector Integration with a focus on Electromobility (remote connection).
ETIP SNET and CIGRE's Memorandum of Understanding
The ETIP SNET will be present at the CIGRE Paris Session for the entire duration of the conference – 28 August – 2 September. At the stand S356 (level 3), it will be possible to liaise with the platform's experts, read and take its latest publications and apply for one of its five working groups.
ETIP SNET's attendance follows the signature of a Memorandum of Understanding (MOU) with CIGRE, a collaborative global community committed to the world's leading knowledge development programme for the creation and sharing of power system expertise.
Through the MOU, ETIP SNET and CIGRE will:
Establish a dialogue and exchange about the main outcomes of the ETIP SNET and, remarkably, the Roadmaps and Implementation Plans, which are setting Innovation priorities in Europe.
Collaborate in drafting common White Paper, Position Papers and Policy papers.
Establish liaison to understand their topics and develop a strategy for how CIGRE and the ETIP SNET can influence their possible decisions relating to the design and operation of networks.
This year's CIGRE Paris Session will include several valuable contributions, including an article by Nikos Hatziargyriou, Rainer Bacher, Mark McGranaghan, Mingli Fu, and John Ward entitled "An example of 4 Roadmaps to a common destination: Decarbonization of energy systems". This paper summarises the contribution of the four experts that presented the decarbonisation goals of the energy systems in Europe, the USA, China and Australia at the CIGRE/ETIP SNET panel in August 2021 and described the main challenges faced in advancing their transition.
CIGRE global community features thousands of professionals from over 90 countries and 1250 member organisations, including some of the world's leading experts. At its heart are CIGRE's 61 in-country National Committees offering diverse technical perspectives and expertise from every corner of the globe.