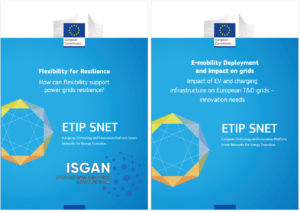 10:00 - 12:00 (CEST)
Location: Online
New technologies and solutions need to be deployed to reach the ambitious targets set by National and European policies and prevent impacts on the security of supply. Electric mobility and flexibility for more resilient energy systems represent two crucial building blocks in future energy systems and they share some common challenges for energy systems dealing with the integration of increasing distributed resources which, at the same time, can provide flexibility services to ensure the resilience of an increasingly electrified system.
Based on the recent ETIP SNET WG1 publication on "E-mobility development and impact on European electricity grids", the webinar will reflect about the EV charging solutions and regulations to be adopted in cooperation with the power system, transport sector, and decision makers. Subsequently, the participants will look at how flexibility can support resilience of the power system, presenting the results of the collaboration between ETIP SNET and ISGAN. The discussion will be consolidated view and input for R&D activities and innovation projects on power system flexibility beneficial for resilience, in particular on how to design and exploit flexibility sources and mechanisms also for increasing the resilience of the overall power system.
Click here to register you attendance to the webinar.
The latest version of the agenda can be accessed here.