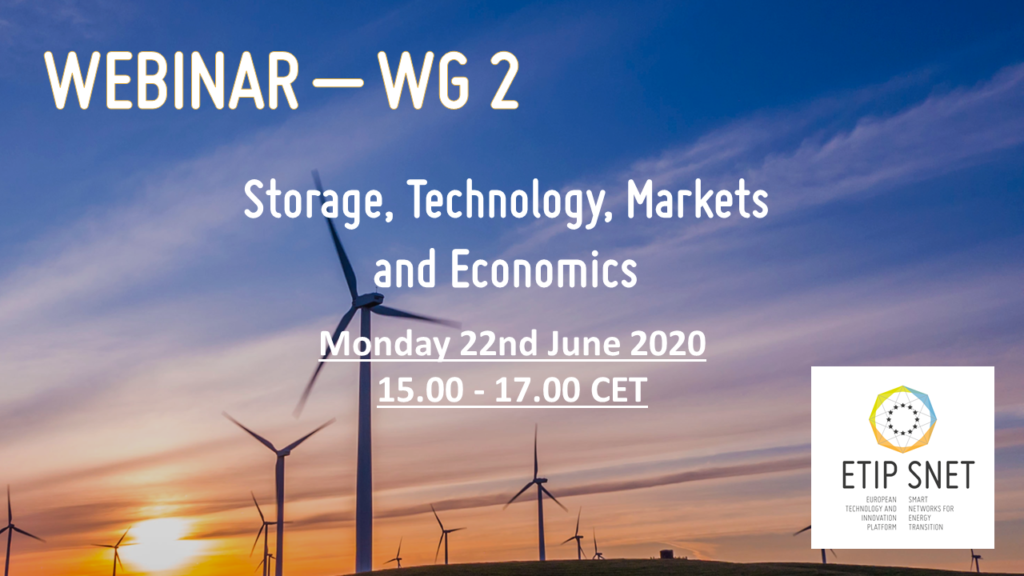 Tuesday. 09 June 2020
The ETIP SNET Working Group 2 on Storage technologies and sector interfaces  in cooperation with the ETIP Batteries Working Group 6 on Application and integration: Stationary hosted the webinar  "Storage, Technology, Markets and Economics" on the 22nd of June 2020.  
On the program:
-Introduction by Yves Schlumberger, ETIP SNET Board member and WG2 Chair, EDF R&D Storage Program Chief (10 min):
ETIP SNET and the role of WG2,
Presenting the webinar structure.
-Luigi Lanuzza, ETIP Batteries WG6 Chair, Head of New Technologies at Enel X:
ETIP Batteries and its main focus points on stationary batteries;
The role and main topics of WG6: stationary batteries.
-Mark Howitt, Storelectric CTO and co-founder, & Enrique Morgades Prat, Head for Market Development CIRCE: Introduction about storage in the energy system: storage technologies & markets.
-Etienne Sorin, EDF R&D Expert Stockage: Technico-economic analysis of storage technologies .
-Silvia Bodoardo, Professor at Politecnico di Torino: Li-ion and other battery technologies
-Ramon Gero, R&D Engineer at Instituto Tecnologico de la Energia, ITE: V2G role in energy system storage.
-Michael Willemot, CFO Business Development, Oxto Energy: Inertia.
-Mark Howitt, CTO & co-founder of Storelectric : Compressed gas technology.
-Youlong Ding, Professor at University of Birmingham: Liquid air energy storage.
You can watch the recording of the webinar here below:
Webinar slides :
1- Yves Schlumberger – Introduction – ETIP SNET – WG2
2- Lugi Lanuzza_ETIP Batteries Europe – WG6
3a- Enrique Morgades – storage energy market overview – CIRCE
4- Etienne_SORIN_Webinar_ETIP_SNET_VF
5- Sylvia Bodoardo – webinar PPT ETIP SNETpost lithium ion technologies
6- Ramon Gero – ETI presentation V2
7- Michael Willemot – OXTO Energy
8- Mark Howitt – Storage technologies overview
< Back to all entries