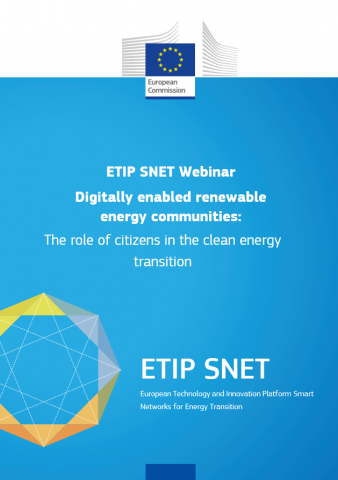 14:30 - 16:00 (CEST)
Location: online
You need to register your attendance to the webinar. 
Check out here the latest version of the agenda. 
This webinar will present and discuss guidelines and practical implications of how adopting a consumer/prosumer-centric approach and enabling energy communities can be pivotal in enhancing the energy transformation for reaching Fit for 55 targets and supporting the REPowerEU plan through the use of digital solutions. Among the topics that the webinar will address are the adoption of innovative digital solutions, promoting customer engagement, and the continuous education of youths and adults. 
The European Commission under the lead of DG Energy will set the scene within the framework of the upcoming Digitalisation of Energy Action Plan. ETIP SNET will complement it with a European multi-stakeholder point of view through the voices of industry, research and university. EYEN will share the unique perspective of the first and only federation of energy-focused youth organisations, while AIOTI and GAIA-X will shed light on energy communities with a focus on digital solutions. 
The webinar makes reference to the High-Level Use Case 5, part of the ETIP SNET R&I Implementation Plan 2022-2025, which aims to develop the necessary R&I to facilitate one-stop-shop and consumer/citizen participation in the energy system and, correspondingly, the inclusion of the energy system in the concept of data economy. 
The event is organised in preparation for the EUSEW Policy Session hosted by DG ENERGY Unit B1 and REScoop, to which the ETIP SNET will participate titled "Repowering Europe by empowering energy communities: a perspective on digital and social innovation" and which will be held on 27th September, 14:30-16:00. 
The link for remote connection will be provided to the registrants some days before the event.
REGISTRATION DEADLINE: 
Tuesday, 05th September 2022