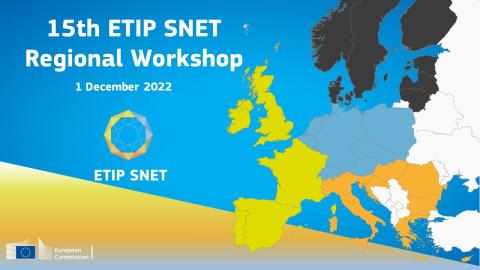 09:30 - 11:30 (CET)
Location: ENLIT Europe, Frankfurt, Germany
Workshop conclusions and recommendations
The ETIP SNET Regional Workshops aim to identify unsolved research and innovation (R&I) topics and monitor the implementation of R&I activities at national and regional levels within the EU, ensuring consistency between national and European views and stimulating knowledge-sharing between stakeholders and among Member States and associated countries.
The main goal of the 15th ETIP SNET Regional Workshop was to learn more about national and regional R&I priorities within the EU Member States (MSs) and to what extent they are aligned with the R&I priorities at the EU level. National and Regional projects and funding programmes from South-Eastern Europe (Bulgaria, Croatia, Cyprus, Greece, Hungary, Italy, Malta, Romania and Slovenia) - addressing energy system integration issues - have been presented.
A specific exercise was done to map the R&I priorities at national and regional levels and align them with the 9 High Level Use Cases (HLUCs) introduced in the ETIP SNET R&I Implementation Plan 2021-2025, and which will be part of the upcoming ETIP SNET Roadmap 2022-2031.
Key conclusions and recommendations of this event will be released soon and will serve as a base for further analysis and discussion with policymakers at European, national and regional levels.