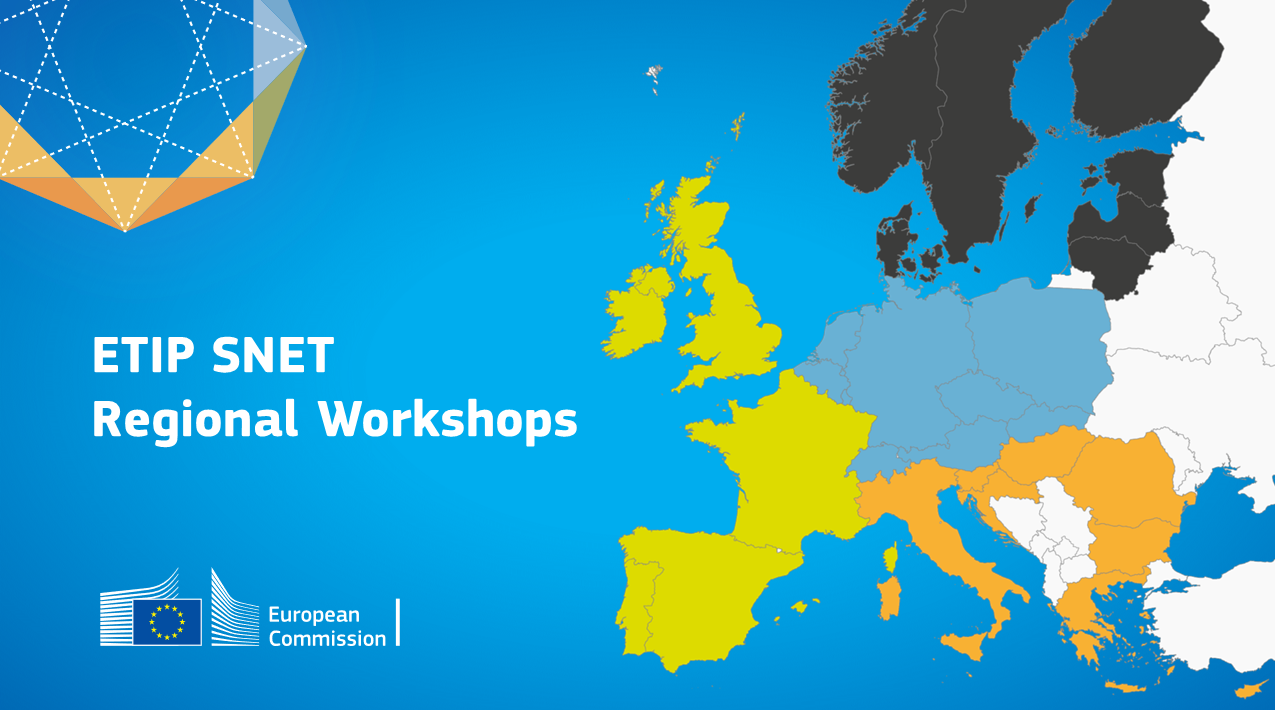 Monday. 26 June 2023
The proceedings, conclusions and recommendations of the latest three ETIP SNET Regional Workshops have been published and available to be read.
As part of its mission of fostering Research, Development and Innovation activities to support Europe's energy transition, the ETIP SNET organises Regional Workshops with the aim to identify unsolved research and innovation (R&I) topics and monitor the implementation of R&I activities at national and regional levels within the EU, ensuring consistency between national and European views and stimulating knowledge-sharing between stakeholders and among Member States and associated countries.
After each Regional Workshop, the proceedings, as well as the conclusions and recommendations of each workshop, are compiled and published on the ETIP SNET website. They serve as a base for further analysis and discussion with policymakers at European, national and regional levels. Such documents for the latest 3 Regional Workshops have now been published and are available on the pages below:
15th ETIP SNET Regional Workshop at Enlit Europe 2022 in Frankfurt, Germany – South-Eastern Europe
16th ETIP SNET Regional Workshop at Iberdrola Global Smart Grids Innovation Hub, Bilbao, Spain – Western Europe
17th ETIP SNET Regional Workshop at Vaasa EnergyWeek in Vaasa, Finland – Northern Europe
The ETIP SNET implements these workshops in close cooperation with experts of the European Commission, and many relevant institutions. It liaises with national and transnational and international initiatives such as BRIDGE, various ERA-Nets (e.g. JPP SES) and the recently started Clean Energy Transition Partnership (CETPartnership). The workshops are called "regional" because they bring together representatives of Member States in 4 Macro "Regions". The gathering is mainly based on criteria of neighbourhood and common geographic characteristics and priorities. 
Western Region: France, Ireland, Portugal, Spain and the United Kingdom 
Central Region: Belgium, Netherlands, Luxembourg, Poland, Austria, Germany, Switzerland, Czech Republic, Slovakia 
South-Eastern Region: Bulgaria, Croatia, Cyprus, Greece, Hungary, Italy, Malta, Romania and Slovenia 
Northern Region: Finland, Denmark, Norway, Latvia, Lithuania, Estonia  
A specific exercise is carried out to map the R&I priorities at national and regional levels and align them with the 9 High Level Use Cases (HLUCs) introduced in the ETIP SNET R&I Implementation Plan 2021-2025, and further developed in the ETIP SNET Roadmap 2022-2031.
< Back to all entries